News - 22/07/2008 | Statement by European Commissioner for Enlargement Olli Rehn
22 July 2008
Statement of EU Commissioner Olli Rehn on the arrest of Radovan Karadžić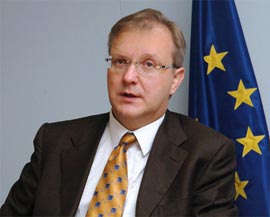 "The arrest of Radovan Karadzic is a milestone in Serbia's cooperation with the ICTY.
It proves the determination of the new government to achieve full cooperation. It is also very important for Serbia's European aspirations.
I am looking forward to tomorrow's meeting of the European Union's Foreign Ministers in the Council to review the next steps in EU-Serbia relations."